How to layer and care for gold vermeil jewellery
In the past few years, gold jewellery has surged in popularity and has made a huge comeback, alongside the ever-growing trend of layering jewellery. Mastering these trends can be difficult, but keep it simple, and you'll wonder why you've waited so long.
Of course, looking after all jewellery is important, but keeping your gold plated jewellery in perfect condition is often tricky. We'd all love to be adorned with solid gold jewellery, but the cost of solid gold often makes this unmanageable. Gold vermeil pieces are the perfect middle ground - they won't mark your skin like copper or brass based high-street jewellery will, but with Sterling Silver as its' base metal, gold vermeil is still very affordable.
Gold Vermeil is 925 Sterling Silver that has been expertly plated with a thick layer of gold.
We spoke to Brand Manager, Georgia, about her tips on wearing gold jewellery, and who (in her opinion) have mastered the trend of stacking and layering.
For me, jewellery is the most personalisable part of styling an outfit. Whether I'm wearing antique jewellery passed down from grandparents, newer trend led pieces, or designs I've made myself, I adore mixing metals, styles and textures to create a look that's entirely unique to me.
As a self-diagnosed jewellery addict, I have collected so many pieces over the years and I'm always looking for new and exciting ways to mix and match my jewellery. Lets hope the layering trend stays put for a while!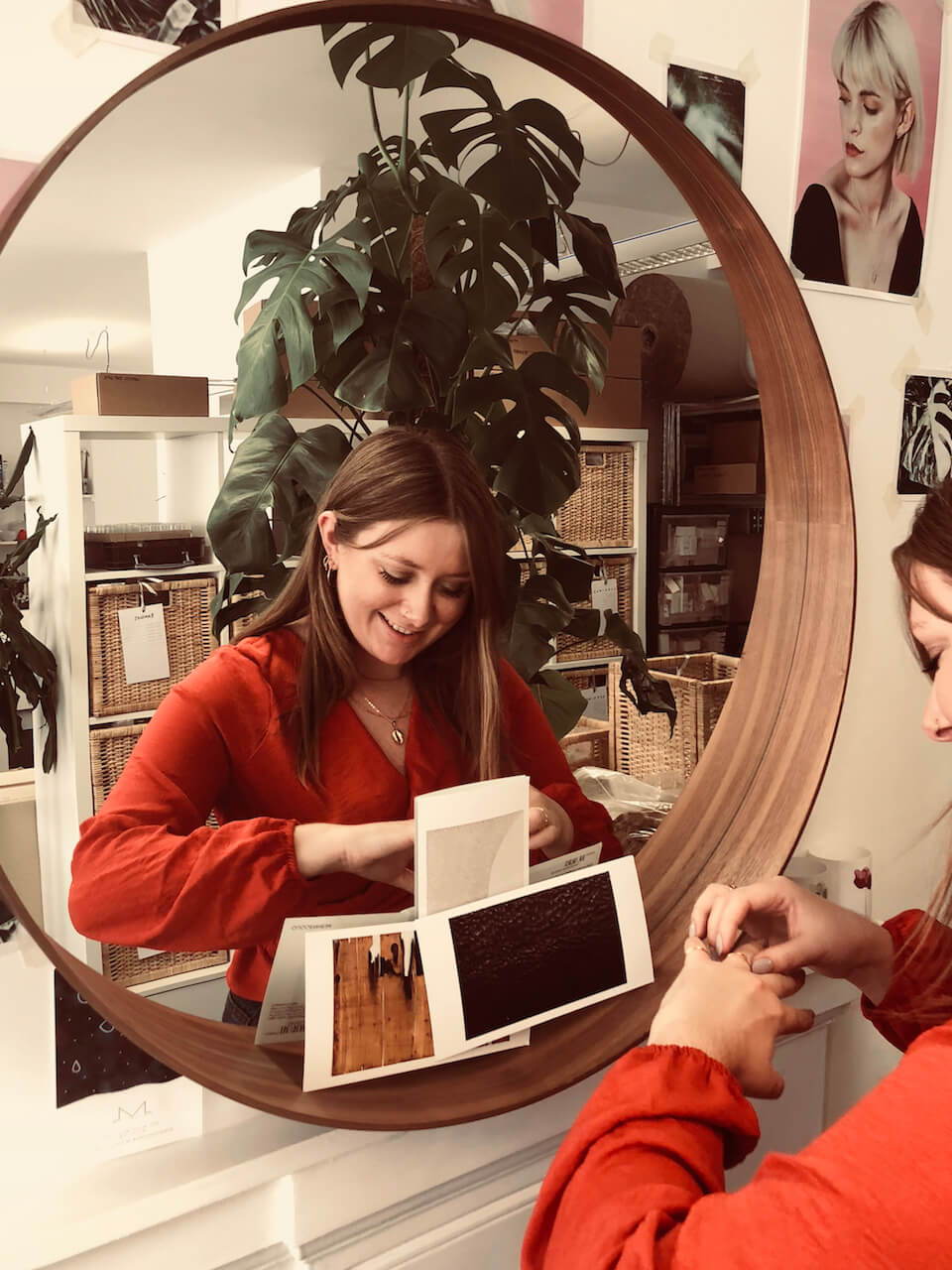 FIRSTLY, MAKE SURE YOU'RE LOOKING AFTER YOUR GOLD JEWELLERY BY FOLLOWING THESE STEPS:
As with all plated jewellery, gold vermeil will still wear over time, so it's important to look after it well. When not being worn, gold vermeil jewellery should be stored in an airtight bag or container to avoid natural tarnishing. As gold vermeil is a type of gold plating, it's also prone to scratching if stored or worn in close proximity to other jewellery.
Having said that, gold vermeil pieces are a clever way of creating a statement look with your jewellery without having to spend your entire pay check on the look. When wearing lots of gold vermeil necklaces together, look for designs that will have as little contact with each other as possible. This will reduce the amount of scratching, and will stop necklaces tangling as much, too! An easy way to do this is by choosing designs that are different lengths, and different chain styles.
If worn often, all vermeil jewellery will eventually lose it's plating. Here at Matthew Calvin we create jewellery that we hope you'll wear for many years to come - that's why we offer a 1 year guarantee, so if your plating has worn off, we'll re-plate it for you free of charge. No longer in guarantee? We can still re-plate for you, but there will be a small fee to cover the cost of the plating. Get in touch to find out more.
SECONDLY, WHETHER YOU'RE LOOKING TO FOCUS ON LAYERING BANGLES, RINGS, NECKLACES OR EARRINGs:
Pick your statement or feature pieces first. This will make your selection process much easier! Your stack will look a lot more put together when you've decided which pieces you want people to notice first.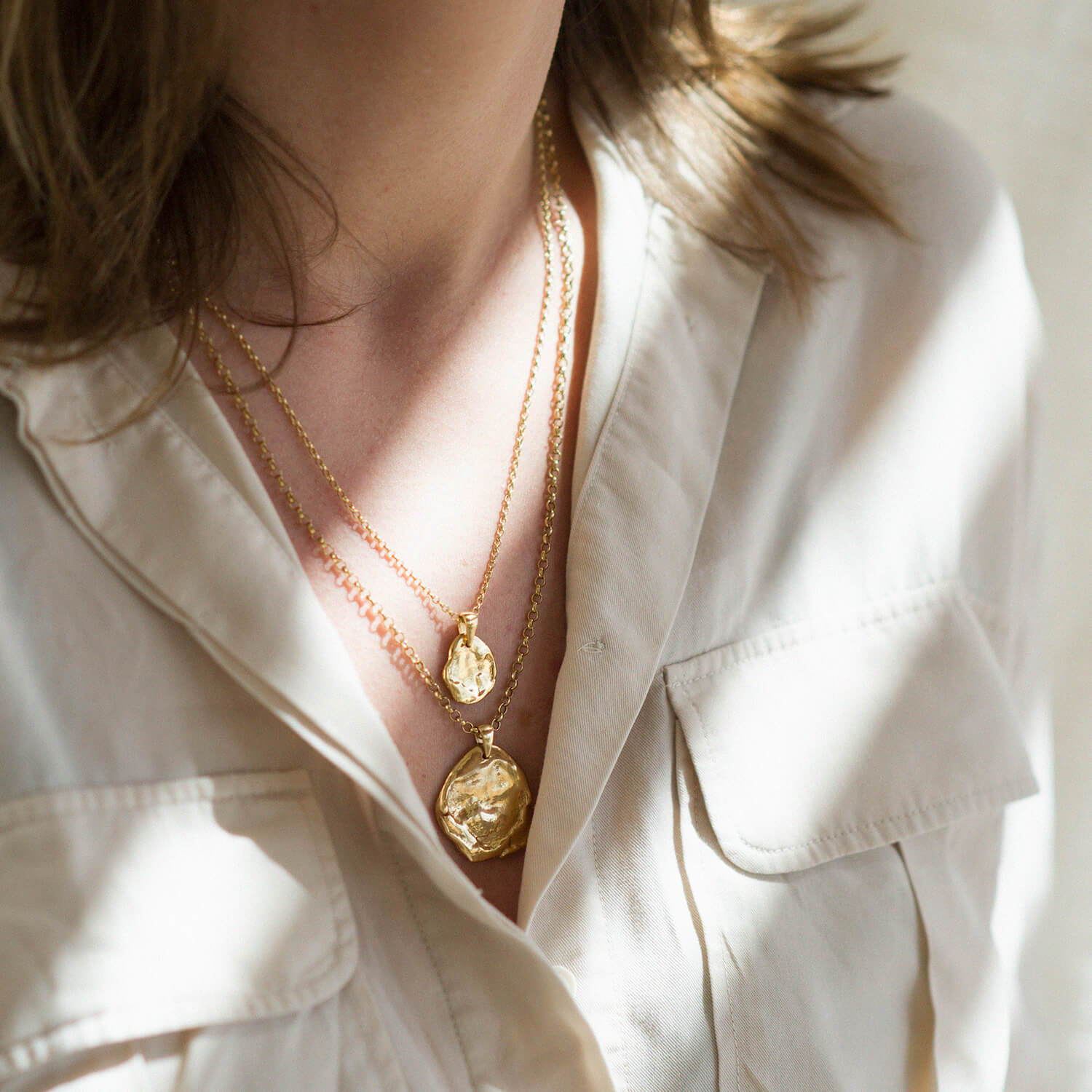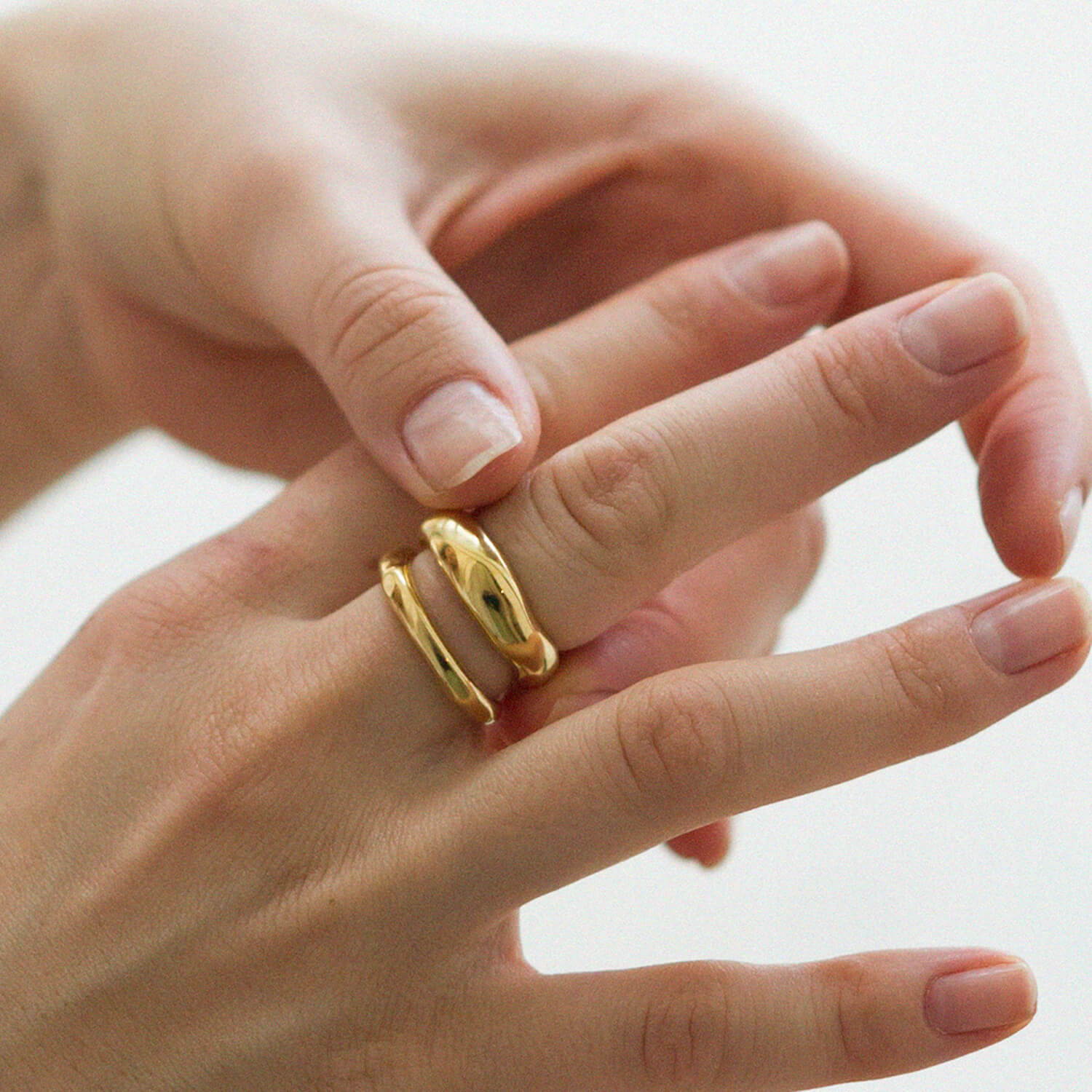 SECONDLY, WHETHER YOU'RE LOOKING TO FOCUS ON LAYERING BANGLES, RINGS, NECKLACES OR EARRINGs:
1. When layering necklaces, balance is SO important. Like @paileaa and @bubblyaquarius, make sure you choose necklaces that can be layered at different lengths, and always make sure there is one statement necklace in the mix. Personally, I love layering a longer statement pendant with a plain chain, and a shorter dainty necklace. Who says three's a crowd?
2. Don't be afraid to mix bold & delicate. Some of my favourite combinations have been made up of necklaces that you may not have originally paired together. Mixing textures, styles, metal colours and weights like both @meganellaby and @pollyvsayer creates an interesting look that can really elevate a simple outfit.
3. A tip for avoiding tangled necklaces (lets face it- we've all been there…) is to make sure each necklace is a different style of chain. You may still get a bit of tangle, but it'll be a lot easier to do a quick fix if the chains aren't all the same! Both @stylonylon and @peexo are both great at mixing different chains to create statement layers.
Stacking rings are one of my favourite style statements - I'm never seen without them. For me, finding the right balance was a long journey (and looking back on the amount of rings I used to wear is somewhat disturbing…) but I've finally found what works for me.
1. Personally, I think the amount of rings you wear is entirely dependent on your finger size / hand shape. It sounds bizarre, but as someone with relatively short and wide fingers, wearing lots of rings together just doesn't work for me. Having said that, on other people, it can look great. I'm obsessed with how @paileaa wears her rings, and she wears a lot. Try a few different combinations out and see how many works for you - sometimes two or three rings stacked, like @bxwie, will have more impact than one on every finger!
2. Mix and match with different metal colours and textures. I always find that when wearing lots of rings, it's nice to change it up a bit to create a break. Don't be scared by mixing gold and silver together! It also means you'll get a lot more wear out of your full jewellery collection, which is always a plus.
3. If you're wary of putting on too many rings, why not try having one statement hand? Wear a few chunky, statement rings on one hand, and create a nice balance by toning it right down with some dainty, minimal designs on the other hand. @anisasojka and @melisekrem both do this very well.
We absolutely love seeing how you choose to style your Matthew Calvin pieces, so don't forget to tag us on Instagram @m.calvin, and don't be afraid to get in touch if you have any questions!
Georgia x