I wanted to jump on and say hello to you all - our team got so used to seeing you all in person at our many pop-ups located throughout London, and it's been an adjustment (to say the least) not being able to chat with you all! Taking it right back to the years of our market stalls and tables at LFWF, meeting and interacting with our wonderful customers has been our favourite part of the process, and we absolutely cannot wait to be able to host an event or a pop-up with you all again soon.
After what seems like years worth of waiting, life seems to slowly be opening up again, and I for one will be welcoming normality with open arms (quite literally). Nice weather is on the way (finally!) and with relaxed restrictions on inside dining, I'm very much looking forward to getting back to some of my favourite restaurants and bars.
Throughout lockdown, I spent a lot of time working on a new collection which I'm really excited to share with you all. As I child I was always drawn to the ocean - some of my favourite memories are from childhood holidays, sailing and spending as much time as possible on the beach. Inspired by these memories, the collection encompasses the idea of better days to come, escapism and the joy we will all soon feel making memories that one day, we will look back on with equally fond thoughts.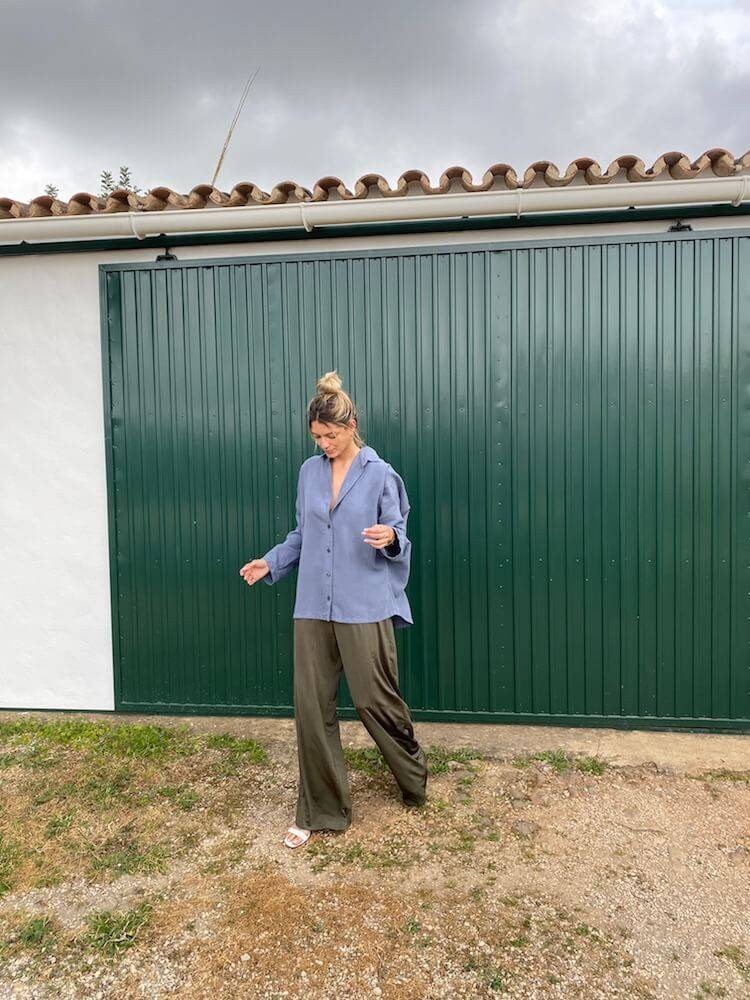 This coming month feels like a milestone - with restrictions easing, a new collection launching and the option to see friends and family that we haven't seen for many months, my husband Joe & I will definitely be celebrating. Having said that, lockdown has truly made us appreciate a slower life, and although we're both excited to get back out there, we've agreed to take things at a much slower pace than we would have a year ago. Nights on the sofa with films, wine and Colin (our cockapoo) are now much more appealing than they once were.
I'll be visiting... Eataly by Liverpool Street Station. A multi-storey treasure trove of Italy's finest ingredients, restaurants and bars, if the queues outside are anything to go by it's a must-visit, and not far from our studio!
I'm thankful for... my husband Joe, my family & friends for somehow keeping me sane throughout the year!
Pieces I'm loving...
The Celeste Necklace, which has just come back in to stock in gold. This piece is special to me as initially it was designed as a bespoke piece for a very dear friend who wanted to use some family stones to make a pair of earrings.
The Machinist Bangle, which will always hold a special place in my heart as one of the first bangles I made for my mum. She has a vast collection, far too many to wear at once but any combination will always include this one that I made for her.
From the first collection I designed, the Meteorite Necklace has been with us since the beginning. Individually carving the pieces out of wax to create a charm with the perfect weight and size, the collection will always be significant to me. It's also comforting to know customers are still enjoying these pieces all these years later.
By far my favourite ring from the Oro Antiguo collection, the Verde Ring is the perfect all rounder. It's just big enough to wear on it's own but it doesnt look out of place stacked with other styles. The asymmetrical detailing means it looks different every day which I think is really intriguing.
Another piece which was a true labour of love, the Tusk Hoops proved tricky to get right, however after a few attempts and some interesting results we found the right weight distribution and the Tusk Hoops were born.
I'm looking forward to... (in case you couldn't tell from the new collection...) holidays with loved ones & the warmer weather! Last year our holiday to Mauritius was cancelled due to covid, so we're hoping we'll be able to get out there sooner rather than later.
I'm watching... The Morning Show. We've nearly finished now, and have thoroughly enjoyed it! Also Nomadland, a film so good we watched it twice in one week.
So, as we creep our way towards summer, keep your chin up and remember to check in on those around you. We're getting there!
Sending lots of love from myself and the team at Matthew Calvin. We can't wait to catch up with you all again soon.
Matthew x